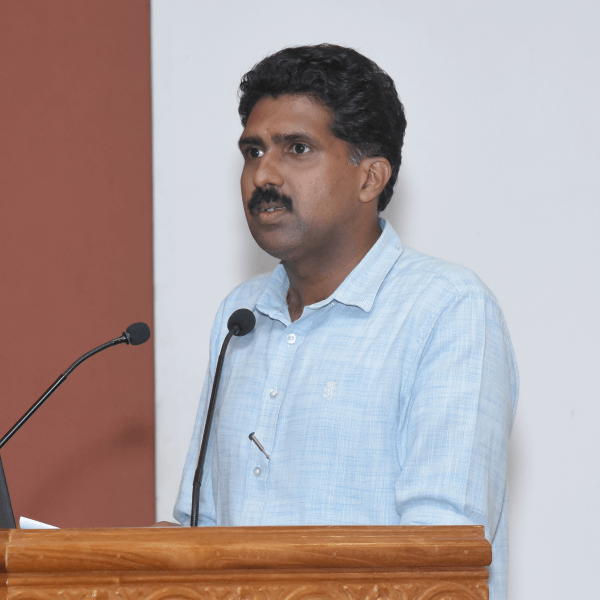 Er. Ratheesh R U
Contact Me :

Email :

Website :
Er. Ratheesh R.U., a distinguished Civil Engineering graduate hailing from Thiruvananthapuram, is a luminary whose accomplishments shine brightly in the realms of engineering, philanthropy, and leadership. His illustrious career is punctuated by his unwavering commitment to philanthropic causes, remarkable organizational skills, and active involvement in various professional bodies, which makes him a highly vibrant engineering professional.
With his educational journey began in Thiruvananthapuram, where he completed his schooling at St. Mary's School, Pattom. His formative years laid a strong foundation for his future endeavors. He further honed his intellectual acumen by graduating with a Bachelor's degree in Civil Engineering from College of Engineering, Trivandrum affiliated to University of Kerala.
Throughout his illustrious career, Er. Ratheesh R U consistently demonstrated exceptional engineering prowess. His innate ability to solve intricate engineering challenges and his profound understanding of engineering principles catapulted him to the forefront of the civil engineering arena. He is widely recognized as a pioneer who continually pushes the boundaries of what is achievable in civil engineering.
Er. Ratheesh R U's dedication to philanthropy is the shining beacon of his life's journey. His unwavering commitment to giving back to society has led him to dedicate a substantial portion of his resources and time to uplift disadvantaged communities. Through numerous charitable initiatives, he has positively impacted countless lives, leaving an indelible legacy of compassion and benevolence.
Remarkable Organizational Leadership:
In addition to his engineering and philanthropic endeavors, Er. Ratheesh R U is celebrated for his outstanding leadership abilities. His professional journey has led him to serve as a Sub Engineer in the Kerala Local Self Government Department (Engineering Wing). In this role, his visionary leadership and adept organizational skills have been pivotal in ensuring the integrity and safety of buildings in the region, reflecting his dedication to excellence.
Active Involvement in Professional Bodies:
His commitment to the engineering and science community is evident through his active participation in various professional bodies. His commendable role as founder secretary of Association for Engineering Professionals, an organisation exclusive for nurturing skills and talent of young Engineers across the country bring his endeavours to lime light. He serves as a State Executive Member of both the Swadeshi Science Movement and the Energy Conservation Society. His contributions to these organizations have played a significant role in promoting scientific and technological advancement in the state. He is also an active member in Institution of Engineers, Trivandrum Chapter.
Through his visionary initiative, Er. Ratheesh R U pioneered the widely acclaimed Engineering Talk Show for Students and Professionals – "Let's Talk Engineering." This groundbreaking talk show has provided a platform for knowledge dissemination, collaboration, and inspiration among budding engineers and seasoned professionals, further solidifying his status as a champion of engineering education. He succeeded in bringing together eminent engineering professionals across the nation in a single platform which is super beneficial for the engineering students and professionals as well.
Er. Ratheesh R U's vision extends far beyond the present. He envisions a world where engineering not only solves problems but also enhances the overall well-being of society. His relentless efforts to bridge the gap between engineering excellence and humanitarian causes serve as an enduring source of inspiration for future generations.
His legacy is one of academic distinction, empathy, visionary leadership, and active involvement in professional bodies. His passion for engineering, coupled with his unwavering commitment to philanthropy and exceptional organizational skills, embodies the values and ideals that seeks to celebrate and recognize. His educational journey at Kerala University marked the beginning of a remarkable career that continues to shape the future of civil engineering and humanitarian endeavours. His dedication to professional organizations and engineering education further solidifies his passion and social commitment towards the entire engineering community.